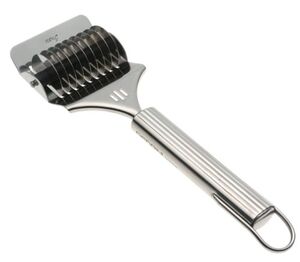 A kitchen utensil that can be used to grind, crush, mince, or cut herbs into smaller bits for seasoning sauces, soups, salads, and other foods. A mortar and pestle are commonly used to grind or crush herbs, while a variety of cutters are available that use blades to do the mincing. Several types of bladed mincers are available. The single or double bladed mincing knife are both formed into a round-edged blade that rocks back and forth over the herb to thoroughly cut it into bits. This type of mincer is often referred to as a
mezzaluna
. Another type of mincer is the rotary mincer that contains a series of sharp wheels to slice through fresh or dried herbs. This type of mincer is also known as a rolling herb mincer or herb roller. Herb mills are also available that have a small compartment or "hopper" into which the herbs are loaded. A handle on the mincer is then turned manually and the herbs are shredded into pieces.
Community content is available under
CC-BY-SA
unless otherwise noted.