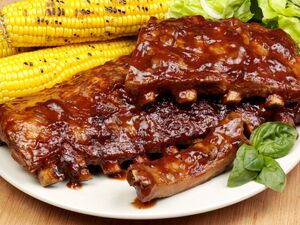 Description
Edit
Contributed by Catsrecipes Y-Group
Source: my old recipes
Serves 4
Ingredients
Edit
Instructions
Edit
Mix liquid smoke and water in a large pot. Bring to a boil and add ribs.
Reduce heat and simmer 1 ½ to 2 hours. Remove and cool to room temperature.
Dip or brush with barbecue sauce.
Place ribs in a 400° F oven for 15 to 20 minutes. Serve hot and plain with rice.
You can also use the honey or spice rub in addition to the barbecue sauce for the pork ribs before cooking in an oven. For crusty ribs, broil for 3 to 5 minutes.
Community content is available under
CC-BY-SA
unless otherwise noted.