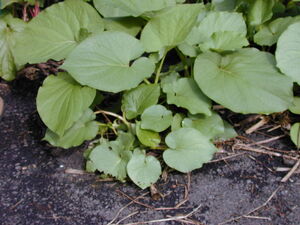 Hoja santa (Piper auritum) is an aromatic herb with a heart-shaped, velvety leaf which grows in tropic Mesoamerica. The name hoja santa means "sacred leaf" in Spanish. A Mexican legend says that Virgin Mary dried diapers of the infant Jesus on the bush of this plant, hence the name. It is also known as yerba santa, hierba santa, Mexican pepperleaf, root beer plant, and sacred pepper.
It is often used in Mexican cuisine for tamales, the fish or meat wrapped in fragrant leaves for cooking, and as an essential ingredient in Mole Verde, the green sauce originated in the Oaxaca region of Mexico. It is also chopped to flavor soups and eggs. In Central Mexico, it is used to flavor chocolate drinks. In southeastern Mexico, a green liquor called Verdín is made from hoja santa. While typically used fresh, it is also used in dried form, although drying removes much of the flavor and makes the leaf too brittle to be used as a wrapper.
Community content is available under
CC-BY-SA
unless otherwise noted.