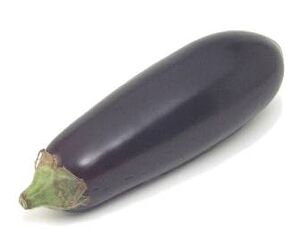 Name Variations
Edit
About Holland eggplant
Edit
The eggplant comes from the family of solanum, which is original in southern India and Sri Lanka. Still, there is a wide variety of eggplant species, which grow in various climates and parts of the world. The Holland eggplant is an annual plant with large leaves and purple flowers. The content of the Holland eggplant is moist and the excess of liquid is exploited in the traditional recipes that include this specie of eggplant. The Holland eggplants are seeded in rows with wide spaces, as they fruits (the edible eggplant) are often big and require light and space.
The Holland eggplant is used for a wide range of tasty and traditional dishes, not only with Hollandaise background, but from any part of the world. Among these, there is the swordfish tagliata with Sicilian sweet and sour vegetables, which contains peeled Holland eggplants, sugar, garlic, olive oil, corn oil, red wine vinegar and various herbs. In this dish, the Holland eggplant gives the meat and the other ingredients its mild and flavoured aroma.
Community content is available under
CC-BY-SA
unless otherwise noted.