Description
[
]
Don't just settle for a few of these! Get your hands on every award winning barbecue sauce ever made and it is to your recipe collection. Here's my Favorite from a seasoned pro and in my opinion a BBQ sauce genius!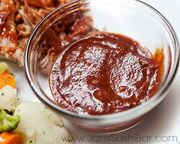 Ingredients
[
]
Directions
[
]
Combine all ingredients in a saucepan and heat to blend together.
Remove lemon peel before basting then squeeze. Use as a marinade and for grilling and/or basting.
Funnel, pour, or spoon contents from the homemade barbecue sauce in a fresh container. Reserve the honey-based barbecue sauce in the freezer.
Nutritional Information
[
]
Servings: 4 cups or 5-8 tablespoons
Videos
[
]
See also
[
]