Description
[
]
This tangy, golden marinade starts with real honey, olive oil, and condiments, and is absolutely great wih salads, meat, poultry, and seafood, as it then keeps a sweet, divine aroma with the vinegar and mustard.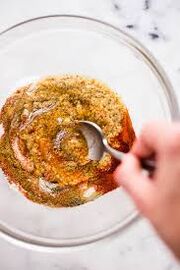 Ingredients
[
]
2 tablespoons Dijon mustard
¼ cup red-wine vinegar
1 teaspoon ground pepper, black only
¼ cup honey
¼ cup extra-virgin olive oil
1 tablespoon lemon or lime juice, optional
Directions
[
]
In a small, fresh bowl, whisk together the mustard, honey, vinegar, lime or lemon juice (optional), and oil. Season with pepper.
Pour, scoop, or funnel the homemade marinade into a fresh glass or plastic jar. Use on meat, poultry, seafood, or salads.
Nutritional Information
[
]
Servings: 3-6 tablespoons or 2 cups
Videos
[
]