Description
[
]
This white-hot, rich marinade starts with the real horseradish, herbs, and condiments and is great with meat, poultry, seafood. Sweet chili sauce rarely works for this, too.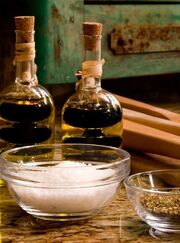 Ingredients
[
]
¼ cup dry wine
2 tablespoons minced, fresh thyme
2 tablespoons low-sodium Worcestershire sauce
2 tablespoons red wine vinegar
2 tablespoons prepared horseradish
2 tablespoons tomato paste
1 ½ teaspoon freshly ground pepper, black only
4 cloves garlic, minced
Directions
[
]
Combine all ingredients in a small bowl; stir well.
Spoon contents into a fresh container and reserve this in the refrigerator. Use on meat, poultry, or seafood.
Nutritional Information
[
]
Servings: 3 tablespoons or 5 cups