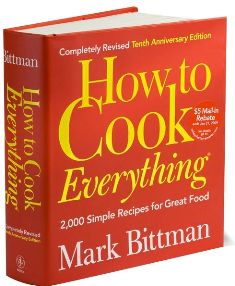 How to Cook Everything is a useful cookbook that is essential to a chef's collection. Full of techniques, recipes, and menus, this cookbook will never run out of uses.
Contents
Edit
After a worthwhile introduction, How to Cook Everything starts with the essentials like equipment and techniques followed by the basics such as appetizers, soups, salads, and pasta. The book then moves in to grains, breads, and pizza. Yet, just wait until the next 225 pages filled with detailed recipes and easy-to-follow diagrams about preparing and cooking fish, poultry, and meat. And, just like in life, no one can wait for the desserts at the end.
Publishing Information
Edit
How to Cook Everything was written by Mark Bittman. It was published by Macmillan, New York, in 1998.
Community content is available under
CC-BY-SA
unless otherwise noted.