Description
Edit
This colorful cupcake is best enriched with cocoa powder to make it grand, while the frosting is made with authentic chocolate and vanilla.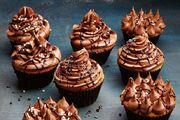 Ingredients
Edit
For the cupcake base
Edit
Chocolate frosting
Edit
Directions
Edit
Preheat an oven to 350° F.
Line 12 muffin cups with paper baking liners or coat with cooking spray.
In a medium bowl, combine both flours, baking powder, baking soda, and salt.
Sift in cocoa and whisk to blend.
In a 2-cup measure, combine buttermilk, oil, and vanilla. Set aside.
In a large mixing bowl, combine eggs and both sugars. Beat with an electric mixer at high speed until pale and thickened, 3 to 5 minutes.
With a rubber spatula, alternately fold in flour and buttermilk mixtures, making 3 additions for flour mixture and 2 for the buttermilk mixture.
Spoon batter into prepared muffin cups. Bake cupcakes until tops spring back when touched lightly, for 20 minutes.
Loosen edges and turn cupcakes onto the full rack. Cool completely.
Meanwhile, to make frosting: in a medium bowl, combine cocoa, chocolate chips, and corn syrup.
Stir or blend in vanilla. Cover with plastic wrap and refrigerate until chilled, at least 1 hour.
Beat slowly at first, then gradually increase speed until frosting is smooth and creamy.
Spread the frosting over tops of cupcakes. Let stand until frosting has set, about 30 minutes before storing. Serve cold and plain with the cupcakes with frosting, as well as with any dessert.
Community content is available under
CC-BY-SA
unless otherwise noted.