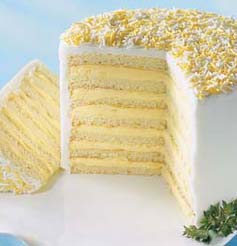 Ingredients
Edit
Torte layers
Edit
To serve
Edit
Directions
Edit
Reduce heat, and simmer, covered, 30 minutes, or until prunes are very tender.
Drain prunes, reserving liquid.
Chop prunes finely.
Add ¾ cup granulated sugar, 1 teaspoon vanilla; the cardamom, ¼ teaspoon salt, and ½ cup reserved cooking liquid; mix until ingredients are well blended.
Set aside to cool.
Torte layers
Edit
Sift flour with baking powder and salt.
In a large bowl, with electric mixer at high speed, beat butter with granulated sugar and vanilla until light and fluffy.
Add eggs, one at a time, beating well after each addition.
Refrigerate dough until chilled and easy to handle-about 20 minutes.
Preheat oven to 350°F.
Divide dough into 7 equal pieces.
For each layer, invert an 8-inch round layer cake pan.
Flatten a piece of dough with hands; place on pan; pat to fit.
Then gently roll to make layer even; trim edge if necessary.
Keep pieces of dough refrigerated until ready to use.
Bake 15 to 20 minutes, or until edge is golden brown.
Carefully remove to wire rack; let cool.
To assemble
Edit
Place one layer on serving plate; spread with about ½ cup filling.
Repeat with 5 more layers and remaining filling.
Set last layer on top.
Cover completely with plastic film or foil.
Refrigerate at least 24 hours, to mellow.
To serve
Edit
Sprinkle top with confectioners sugar.
Cut in thin slices.
Pass whipped cream.
Return unused portion to refrigerator.
Community content is available under
CC-BY-SA
unless otherwise noted.