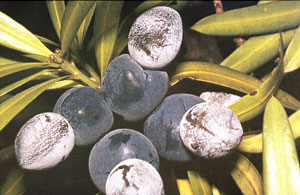 A unique dark red berry of the Brown Pine which conveniently grows its stone on the outside of the fruit. It is a semi-tropical tree ranging from New South Wales to Queensland.
Illawarra Plum
Edit
The Illawarra Plum is native to sub-tropical eastern New South Wales and Queensland.  It is also known as Daalgaal  and Gidneywallum.
The vivid purple fruit has a plum/pine flavour which is primarily harvested in the wild.
The fruit contains appreciable quantities of sticky sugars which are hugely beneficial to the gastrointestinal tract.  The antioxidant level is seven times that of blueberries.
It is primarily used to make jams, beverages and conserves.
Tip: Cook Illawarra plum in a sugar syrup.  Soak in liqueur for a minimum of 6 months.  Drain and roll in dark chocolate.
Kangaroo Fillet encrusted with Macadamia Nut Dukkah (recipe here) served with Illawarra Plum Sauce, steamed vegetables and sebago mash.
Illawarra Plum Sauce (ideal with kangaroo fillet)
200g Illawarra plums 100g sugar 200ml water 1 red chilli, sliced 1 Tsp crushed garlic 1/2 onion, diced 1 Tsp brown sugar 3 Tbs macadamia nut oil 1/4 cup Bush Tomato Infused Vinegar  (I added a Tbspn whole bush tomato to a bottle of white wine vinegar and left it for a month)
In a small saucepan, add plums, sugar and water. Bring to the boil and allow to simmer for 20 minutes. Pour into a blender and puree.
For the sauce, heat macadamia oil in a pan, add diced onion, garlic and chilli. Saute until transparent, add plum puree and vinegar and allow mixture to simmer for 15 minutes.  Cool.  Press through sieve for a smooth sauce.
Great with steak and salad!
Community content is available under
CC-BY-SA
unless otherwise noted.