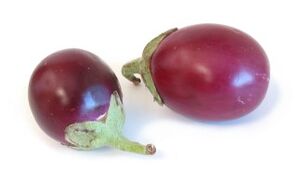 Name Variations
Edit
About Indian eggplant
Edit
The eggplant comes from the family of solanum, which is original in southern India and Sri Lanka so basically, the origin of this fruit-vegetable is Indian. The scientific name of the Indian eggplant is solanum melogena esculenta and it consists of a plant which has ovoid, large and purple-skinned fruits. In the various cuisines of the world, the eggplant is also called melongene or aubergine. The Indian eggplant presents some similarities with the Chinese one, as they both have a colour gradient, ranging from white at the stem to intense purple and dark purple, but there are also some albino species.
The Indian eggplant is used for various specialties, like the stuffed eggplant, the mashed eggplant salad, the curry eggplant or spicy eggplant with chicken, which all include the famous Indian spices. Due to its various preparation methods and high level of nutrients, the eggplant is used in both vegetarian diets (even as a meat substitute – due to its consistency and flesh texture) and in low calorie diets (an Indian eggplant portion has around 30 calories)
Community content is available under
CC-BY-SA
unless otherwise noted.