I'm not sure where I found this recipe, but it sounded so weird to me at the time, I just had to try it. I do a lot of outdoor cooking on the grill. I'm lucky enough to have a Big Green egg out on my deck to cook on. It is a ceramic barbecue with a fire brick interior and uses charcoal. You can use a gas grill, too... just be sure to try this recipe. You will be pleasantly surprise.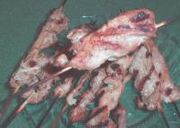 Ingredients
Edit
Directions
Edit
What I do is take a 2-3 pound piece of boneless Pork loin and cut it into"chops" and then cut the chops in half and then pound each half until thin.
Combine the marinade ingredients and pour over Pork.
Thoroughly coat all pieces of meat.
(I put everything in a Ziploc plastic bag).
Marinate for several hours.
When ready to cook, thread Pork onto skewers (I kind of"sew" the meat back and forth onto the skewers) and cook on heated grill over moderate heat for 12–14 minutes, turning once.
It doesn't take long for the Pork to cook because it has been pounded thin, so be sure not to overcook it or it will be dry.
Community content is available under
CC-BY-SA
unless otherwise noted.