Description
Edit
This delicious Irish recipe can be served as a snack (with tea or coffee) or a dessert to finish off a great dinner. You can make this with other fruits in a dough on other occasions.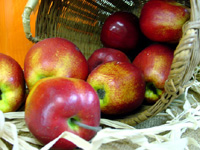 Ingredients
Edit
pastry dough
4 medium apples, peeled, cored, and chopped, red only
1 ¾ cup sugar, white only
2 tablespoons powdered sugar, for sprinkling
2 teaspoons cinnamon
½ cup all-purpose flour
4 tablespoons unsalted butter, softened
1 teaspoon coffee powder, optional
Directions
Edit
Preheat the oven to 350° F. Line an 8-inch pie pan or baking dish with pastry dough.
Use a fork to prick the dough. Mix apples, ¾ cup sugar, and 1 teaspoon cinnamon in a bowl. In another bowl, mix flour, 1 cup sugar, and butter.
Mix using a fork until you have a crumbly mixture.
Put apple mixture in the pie crust and smoothen the surface.
Cover apple mixture with the crumble mixture.
Sprinkle 1 tablespoon powdered sugar, 1 teaspoon cinnamon, and 1 teaspoon coffee powder (if desired) over the crumble.
Bake for 25 minutes. Serve hot and plain with other fruits or desserts but spoon the baked, fruit-based crumble in a saucer.
Community content is available under
CC-BY-SA
unless otherwise noted.