Description
Got a hot pressure cooker used for stews? This basic, international main dish is made, mixed, and packed with real lamb, beef broth, herbs, and vegetables, and has a higher hint of black pepper. Sweet potatoes sometimes work for this, too.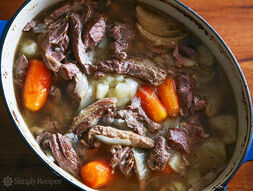 Ingredients
1 tablespoon vegetable oil
1 pound leg of lamb, cut into ¾-inch cubes, seasoned liberally with salt and pepper  
3 cups beef broth, hot or lukewarm only
2 cloves garlic, minced or (2 ½ teaspoons garlic powder)
2 ¼ teaspoons pepper, black only
2 cups peeled potatoes, cut into ½-inch cubes
1 ½ cup carrots, cut into ½-inch slices
1 ½ cup celery, cut into ½-inch slices
½ cup chopped onion, red, white, or yellow only
kosher salt, to taste
Directions
Heat oil in a large skillet over medium heat.
Add lamb and cook until brown, about 5 minutes.
Add beef broth, garlic, rosemary or marjoram, and pepper.
Bring to a boil; reduce heat to low. Cover and simmer 20 minutes or until meat is tender.
Mix with potatoes, carrots, celery, and onion.
Return to boiling; reduce heat. Cover; simmer about 30 minutes or until vegetables are also tender.
Season the stew to taste with salt. Serve hot and plain or with rice or other main dishes but spoon or scoop some contents from the cooked lamb stew into a large plate or ramekin.
Videos
Source
Lamb, Leg or Shoulder by the US Department of Agriculture, public domain government resource—original source of recipe
Community content is available under
CC-BY-SA
unless otherwise noted.