Description
[
]
One of the many famous Irish dishes, Shepherd's Pie is traditionally made from leftover mutton, minced and topped with mashed Potato. However, pre-cooked minced (or ground) Beef can be used.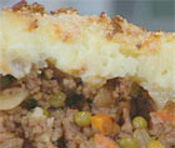 Ingredients
[
]
Directions
[
]
Add carrots. Fry for another 5 minutes.
Remove vegetables from pan.
Put vegetables back in pan.
Gradually add beef stock to the mixture.
Add tomato puree and reduce heat to low. Let mixture cook for 30 minutes.
In a baking pan, pour meat and vegetable mixture.
Spread mashed Potato on top.
Bake for 25 minutes until golden on top.