An exceptional Italian take on real cheese, biscuit dough, and fresh seasoning is great for side dishes and delivers a glorious aroma that it relishes and offers to the meat. Leftover ham or pepperoni and Parmesan respectively sometimes replace salami and Colby-Jack, Cheddar, or Monterey Jack and work for this recipe for preparation, too.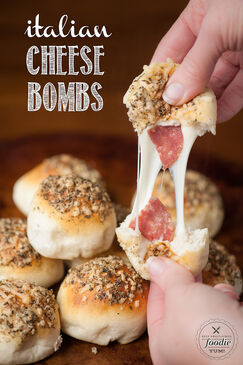 1 (16-ounce) tube biscuit dough
6 ounces part skim, low-moisture Mozzarella
16 slices (about 2 ounces) salami
2 tablespoons olive oil
¼ cup fresh cheese (Parmesan or Provolone only)
¼ cup dried Italian seasoning
1 tablespoon black pepper, optional
Preheat an oven to 400° F.
If a package has 8 biscuits, split each biscuit in half to make 16 flat disks.
Divide cheese into 16 equal portions. Cut each piece of salami up into 4 pieces.
One biscuit at a time, add a chunk of cheese and 4 pieces of salami on dough and then wrap ends around to create a ball. Be sure to fully seal.
Add olive oil to a shallow cup.
Add Parmesan, the Italian seasoning, and black pepper (optional) to another shallow cup. Once all the balls have formed, dip each ball in olive oil and then roll the top in the cheese and seasoning mixture.
Place on a baking sheet with the Parmesan seasoning side up.
Bake in a preheated oven until golden brown, about 10-15 minutes. Serve immediately so the cheese is nice and melting.
Community content is available under
CC-BY-SA
unless otherwise noted.