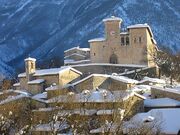 6 oz unsalted butter
6 oz sugar
325 gr dark chocolate, broken into bits
50 gr walnuts, shelled, halved, toasted & rough chopped (with a good mix of large & small)
50 gr blanched almonds, toasted & rough chopped
75 gr shelled hazelnuts
5 large eggs, separated
150 gr chestnuts, cooked & broken into bits
1 orange rind, grated
1/2 teaspoon cinnamon
50 gr ground almonds
powdered (icing) sugar for dusting
Preheat oven to 350 degrees Fahrenheit.
Melt butter & sugar in a bowl set over simmering water. Add in chocolate, stirring well.
Add the egg yolks to the chocolate mixture, then mix in the all the nuts, orange rind & cinnamon. Whisk yolks until stiff, but not dry. FOLD in egg whites to the chocolate mixture. (You don't want to knock the air out by mixing too hard.)
Pour into a buttered 8in spring form cake pan.
Bake for 45 minutes
Leave the cake in the pan to cool for about 20 minutes. It is a fragile cake, so handle with care.
The top will deflate & crack a little as it cools. Dust with powdered (icing) sugar.
Community content is available under
CC-BY-SA
unless otherwise noted.