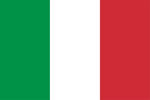 Italian cuisine as a national cuisine known today has evolved through centuries of social and political change. Its roots can be traced back to the 4th century BC. The cuisine changed significantly with discovery of the New World which helped shape much of what is known as Italian cuisine today with the introduction of items such as potatoes, tomatoes, bell pepper and maize, which are all central parts of the cuisine but were not introduced in scale until the 18th century.[1]
Ingredients and dishes vary by region. There are many significant regional dishes that have become both national and regional. Many dishes that were once regional, however, have proliferated in different variations across the country in the present day. Cheese and wine are also a major part of the cuisine, playing different roles both regionally and nationally with their many variations and Denominazione di origine controllata (DOC) (regulated appellation) laws. Coffee, and more specifically espresso, has become highly important to the cultural cuisine of Italy.
Overview of Italian Cuisine History
Edit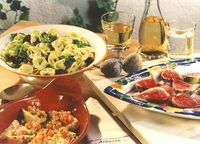 When contemplating the history of Italian cuisine, it is important to remember that Italy did not exist as a unified country before 1870; prior to that, it was a diverse collection of kingdoms and principalities. Indeed, as Kyle Phillips notes in the introduction to his translation of The Art of Eating Well, only a small percentage of "Italians" actually spoke Italian prior to the 20th century. This political (and cultural) diversity is mirrored by the wide variety of climatic and topographic regions that the Italian peninsula spans. Because of these conditions, there exist a great variety of dishes in the Italian repertoire.
Similarly, one needs to remember that most recipes in the Italian repertoire have come down to us from generations of poor, hard-working people. While the feasts provided by the Medici, Estes and Lombardi are the stuff of legend, court fare was more closely identified with French and Austrian cuisine and subject to changes in fashion and taste. This has little to do with what we now identify as Italian cooking, which was largely dependent on locally and seasonally available products and which probably evolved very slowly over the centuries.
Several major changes have nonetheless shaped Italian cooking, notably the acceptance of tomatoes as a food in the 18th century (prior to then, tomatoes were thought to be poisonous and grown only for decorative reasons). To a lesser extent and at about the same time, potatoes became a regular part of several regional cuisines.
Perhaps the most important change in the history of Italian cooking was the 1891 publication of Pelligrino Artusi's La Scienza in Cucina e l'Arte di Manginar Bene (The Science of the Kitchen and the Art of Eating Well). Artusi, a polymath, gourmand and bon vivant, traveled extensively throughout the Italian peninsula, collecting recipes as he went along. His collection became The Art of Eating Well. By all accounts, it was the first modern cookbook to include recipes from many of Italy's regions and to present them in a common dialect. His work has been credited with fostering a national Italian culture; at a minimum, he helped forge the Italian cuisine from its many regional cuisines.
Cuisines of Italy
Edit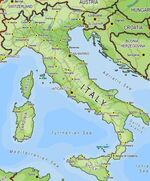 The Italian cuisine is characterized by some specific unique dishes, like pasta, risotto and pizza, which are served in all parts of the country. However, regional differences may occur in the cooking process of a meal, resulting in variations of the same recipe, or unique specific ones of a single area, like the Napoli pizza, specific to the Neapolitan region. Also, Peperoni Imbottiti is another specific Neapolitan dish, and consists of stuffed bell peppers with Eggplant and bread crumbs.
In the Tuscan region, harty soups are a common thing, as well as fish stews. Cacciucco and scottiglia are some of the specific Tuscan stews. Other Tuscan specialties include "alla fiorentina" steak, ribollita, a thick vegetable soup and fagioli all'uccelletto, sautéed beans in garlic and sage with tomatoes.
In the Piedmont region you can find a special dish called fonduta, containing melted cheese dip of milk, eggs and white truffles. Also, boiled veal tongue and fish assortments like anchovies, eels, carp, trout, and snails are available in all region.
Lombardy is well known for Milan related dishes, such as spaghetti Milanese and minestrone alla Milanese, and for other specialties such as creamy Gorgonzola and polenta.
Rice and peas are specific for the Veneto region, where you can also find calf's liver fried with onions, shellfish, eels and dried Cod. In Genoa region pesto is the main ingredient, and in Norcia, the Italian cuisine capital, you can find pork dishes, black truffles, and hand-made pasta like "strozzapreti."
Sicily is rich in fruits and seafood, as well as Sardinia, which is also known for sausages, sweet green olives, and Lamb steaks.
Valle D' Aosta
Piedmont
Lombardy
Trentino-Alto Adige
Veneto
Friuli-Venezia Giulia
Liguria

Turin
Alessandria
Asti
Biella
Cuneo
Novara
Verbania
Vercelli

Milan
Bergamo
Brescia
Como
Cremona
Lecco
Lodi
Mantua
Pavia
Sondrio
Varese

Venice
Belluno
Padua
Rovigo
Treviso
Verona
Vicenza

Trieste
Gorizia
Pordenone
Udine

Genoa
Imperia
La Spezia
Savona

Emilia-Romagna
Tuscany
Marche
Umbria
Lazio
Abruzzo
Molise

Bologna
Ferrara
Forli-Cesena
Modena
Parma
Piacenza
Ravenna
Reggio nell'Emilia
Rimini

Florence
Arezzo
Grosseto
Livorno
Lucca
Massa-Carrara
Pisa
Prato
Siena

Ancona
Ascoli Piceno
Macerata
Pesaro-Urbino

Rome
Frosinone
Latina
Rieti
Viterbo

L'Aquila
Chieti
Pescara
Teramo

Campania
Puglia
Basilicata
Calabria
Sicily
Sardinia
 

Avellino
Benevento
Caserta
Naples
Salerno

Bari
Brindisi
Foggia
Lecce
Taranto

Catanzaro
Cosenza
Crotone
Reggio di Calabria
Vibo Valentia

Palermo
Agrigento
Caltanissetta
Catania
Enna
Messina
Ragusa
Syracuse
Trapani

Cagliari
Nuoro
Oristano
Sassari

 
Unique Dishes by Region
Edit
Abruzzo
Basilicata
Calabria
Campania

Agnello con le olive
Maccheroni alla Chitarra: a narrow stripped pasta served with a sauce of tomatoes, bacon and Pecorino cheese
Sugo di Castrato: mutton sauce made with onion, rosemary, bacon, white wine, and tomatoes
Mozzarelline allo Zafferano: mini mozzarella cheese coated with a batter flavored with saffron
Agnello casc' e ove: Lamb stuffed with grated pecorino cheese and eggs
Arrosticini

Pollo alla Potentina: Potenza-style chicken; Chicken braised with tomatoes, onion, white wine, peperoncino, topped with fresh basil, parsley and pecorino cheese
Agnello alla Pastora: Lamb with potatoes
Orecchiette alle Cime di Rapa: Ear-like pasta with broccoli
Orecchiette con la Salsiccia Piccante: Ear-like pasta with typical spicy salami from Basilicata
Pecorino di Forenza: Typical Forenza's sheep cheese
Salsiccia Lucana: Refined spicy salami called also Luganega
Scarteddate: typical Christmas biscuits
Sanguinaccio: homemade jam with chocolate and pig blood

Melanzane alla Menta: Eggplant marinated with mint
Pitta coi Pomodori: pita bread with tomatoes
Pesce Spada alla Ghiotta: swordfish rolls in tomato sauce
Zippuli
Cuzzupa

Maccheroni alla Napoletana: macaroni with Neapolitan sauce; a sauce of braised beef, carrot, celery, onion, garlic, white wine, tomato paste and fresh basil.
Pizza Napoletana: Neapolitan pizza; pizza topped with anchovies, mozzarella, oregano and olive oil
Mozzarella in Carrozza: fried mozzarella sandwiches
Insalata Caprese: salad of tomatoes, mozzarella and basil
Pastiera Napoletana: Neapolitan ricotta cake

Emilia-Romagna
Friuli-Venezia Giulia
Lazio
Liguria

Zampone: stuffed pig's trotter, fatter
Cotechino: stuffed pig's trotter, leaner
Cappella da Prete: stuffed pig's trotter, very fat
Erbazzone: salty croissant filled with salad
Fave Stufate: beans with mortadella
Torta Barozzi o torta near: Barozzi tart of black tart (a dessert made with a coffee/cocoa and almond filling encased in a fine pastry dough
Tortellini: pasta filled with pork, Parmigiano-Reggiano and spices
Lasagne: pasta filled with Bolognese Sauce
Cannelloni, Crespelle and Rosette: pasta filled with bechamel, cream, ham and others
Piadina: Pancake shaped bread
Passatelli
Tigelle
Parmigiano-Reggiano: hard cheese
Aceto Balsamico di Modena
Parmacotto: special ham from Parma
Pan Papato: very fatty Christmas dessert with almonds, candiedes and a lot of spices
Mortadella: cold pork from Bologna
Culatello: special ham, very precious and expensive, made with pig's backside.
Salame Felino: special salami from Parma
Garganelli: tipic pasta usually seasoned with pancetta, peas and cream.
Gramigna con salsiccia: tipic pasta with sausages ragut.
Pisarei e Fasò: peas and beans from Piacenza
Torresani: rosted pigeons
Salamina da Sugo: soft salami from Ferrara, righted to season.
Salami of San Secondo: salami from Parma made with pork shoulder.
Coppa: cold pork from Piacenza
Ciccioli: cold meat made with pig's feet and head from Modena
Squaqquerone: Sweet, runny, milky cheese from Romagna
Tigelle and Crescentine: typical focaccia from Emilia
Gnocco Fritto and Crescentine: fried bread from Emilia
Borlengo
Tagliatelle all'Uovo: pasta makde with egg from Bologna
Pesto di Modena: pork lard, garlic, rosemary and Parmigiano-Reggiano wich is used to season tigelle, borlenghi and crescentine

Jota: stew of beans with bacon
Brovada: turnips preserved in marc
Frico: Cooked Montasio cheese. It can be done in different fashions, with or without potatoes, crunchy or soft.

Saltimbocca alla Romana: Veal cutlet, Roman-style; topped with raw ham and sage and simmered with white wine and butter
Coda di bue alla vaccinara: oxtail ragout
Carciofi alla Giudia: artichokes fried in olive oil, typical of Roman Jewish cooking
Carciofi alla Romana: artichokes Roman-style; outer leaves removed, stuffed with mint, garlic, breadcrumbs and braised
Spaghetti alla carbonara: spaghetti with bacon, eggs and pecorino
Bucatini all'amatriciana: bucatini with guanciale, tomatoes and pecorino
Gnocchi di semolino alla romana: semolina dumpling, Roman-style

Pizza all'Andrea: Focaccia-style pizza topped with tomato slices (not sauce) onions and anchovies
Scabeggio: fried fish marinated in wine, garlic, lemon juice and sage, typical of Moneglia
Baccalà Fritto: morsels of salt cod dipped in flour batter and fried
Torta Pasqualina: savory flan filled with a mixture of green vegetables, ricotta and parmigiano cheese, milk and marjoran; some eggs are then poured in the already-placed filling, so that their yolks will remain whole and firm when cooked
Buridda: seafood stew
Mosciamme: originally a cut of dolphin meat dried and then made tender again thanks to immersion in olive oil, since several decades the dolphin meat has been substituted with tuna
Mescciüa: a soup of chickpeas, beans and wheat grains, typical of eastern Liguria and likely of Arab origin
Cima alla Genovese: this cold preparation features an outer layer of beef breast made into a pocket and stuffed with a mix of brain, lard, onion, carrot, peas, eggs and breadcrumbs, then sewn and boiled. It is then sliced and eaten as an entrée or a sandwich filler
Stecchi alla Genovese: wooden skewers alternating morsels of leftover chicken meats (crests, testicles, livers...) and mushrooms, dipped in white bechamel sauce, left to dry a bit and then breaded and fried
Pansoti: triangle-shaped stuffed pasta filled with a mix of borage (or spinach) and ricotta cheese, they can be eaten with butter, tomato sauce or a white sauce made with either walnuts or pine nuts (the latter two being the more traditional ligurian options)
Bianchetti: Whitebait of anchovies and sardines, usually boiled and eaten with lemon juice, salt and olive oil as an entrée
Maccheroni con Trippa: A traditional savonese soup uniting maccheroni pasta, tripe, onion, tomato, sausage, thistle, parsley and white wine in a base of capon broth
Condigiun: a salad made with tomatoes, bell peppers, cucumber, black olives, basil, garlic, anchovies, hard boiled egg, oregano, tuna.
Sgabei: fritters made from bread dough (often incorporating some cornmeal in it)
Testa in Cassetta: a salami made from all kind of leftover meats from pork butchering (especially from the head)
Galantina: similar to Testa in cassetta but with added veal meat
Torta di Riso: Unlike all other rice cakes this preparation is not sweet, but a salted cake made with rice, caillé, parmigiano and eggs
Panera Genovese: a kind of semifreddo rich in cream and eggs flavoured with coffee, similar to a cappuccino in ice cream form
Cappon Magro: a preparation of fish, shellfishes and vegetables layered in an aspic
Cobeletti: sweet corn tarts
Latte Dolce Fritto: a thick milk based cream left to solidify, then cut in rectangular pieces which are breaded and fried
Pandolce: sweet bread made with raisins, pine nuts and candied orange and cedar skins
Panissa and Farinata: chickpea-based polentas and pancakes respectively
Farinata di Zucca: a preparation similar to chickpea farinata substituting pumpkin for the legumes' flour as its main ingredient, the end result is slightly sweeter and thicker than the original
Agliata: Pesto's direct ancestor, a spread made from garlic cloves, egg yolk and olive oil pestled in a mortar until creamy
Trenette col Pesto: Pasta with Pesto (Olive Oil, garlic, Basil, Parmigiano and Pecorino Sardo cheese) sauce

Lombardy
Marche
Molise
Piedmont

Tortelli di zucca: ravioli with a pumpkin filling
Risotto alla milanese: A stirred rice dish made with Vialone or Carnaroli rice flavored with saffron
Panettone: a Milanese Christmas traditional bread made with a yeast dough along with candied citrus peel, raisins and candied fruits
Torrone
Mostarda di Cremona: boiled fruits seasoned with mustard
Pizzoccheri: buckwheat tagliatelle dressed with potatoes, greens (often Swiss Chard), butter and Bitto cheese: a speciality of the Valtellina.

Brodetto di San Benedetto del Tronto: fish stew, San Benedetto del Tronto-style
Passatelli all'urbinate: spinach and meat dumplings
Olive all'ascolana: fried olives stuffed with pork, beef, chicken livers, tomato paste and Parmesan cheese
Ciauscolo: made from the belly and shoulder of pig with half its weight in pork fat and seasoned with salt, pepper, orange peel and fennel. It is stuffed into an intestine casing, dried in a smoking chamber and cured for three weeks.
Coppa: coppa in this region refers to a boiling sausage made from pig's head, bacon, orange peel, nutmeg and sometimes pinenuts or almonds. It is meant to be eaten within a month of preparation
Salame lardellato: made with lean pork shoulder, or leg meat, along with diced bacon, salt, pepper, and whole peppercorns. It is cased in hog's intestines, dried for one-and-a-half days and then placed in a warm room for 3–4 days, two days in a cold room and then two months in a ventilated storage room
Prosciutto de Montefeltro: made from free-range black pigs, this is a smoked Prosciutto washed with vinegar and ground black pepper
Salame de Montefeltro: made from the leg and loin meat of the black pig, this sausage is highly seasoned with peppercorns and hung to dry
Salame de Fabriano: similar to salame lardellato except that it is made solely from leg of pork with pepper and salt
Fegatino: a liver sausage with pork belly and shoulder, where the liver replaces the fat of other sausages
Soppressata de Fabriano: finely emulsified pork flavored with bacon, salt and pepper, the sausage is smoked and then aged
Mazzafegato da Fabriano: mortadella made from fat and lean pork with liver and lung added to the fine-grained emulsification. It is seasoned with salt and pepper, stuffed into casings and smoked. This sausage is often served at festivals.

Agnello con le Olive:
Maccheroni alla Chitarra: a narrow stripped pasta served with a sauce of tomatoes, bacon and Pecorino cheese
Sugo di castrato: mutton sauce made with onion, rosemary, bacon, white wine, and tomatoes
Mozzarelline allo Zafferano: mini mozzarella cheese coated with a batter flavored with saffron
Agnello casc' e ove: Lamb stuffed with grated pecorino cheese and eggs
Arrosticini

Risotto alla piemontese: risotto cooked with meat broth and seasoned with nutmeg, Parmesan and truffle
Paniscia di Novara: a dish based on rice with borlotti beans, salame and vegetables
Bagna cauda: A hot dip based on anchovies, olive oil and garlic blanched in milk, to accompain vegetables (either raw or cooked), meat or fried polenta sticks
Carne cruda all'albese: steak tartare with truffles
Vitello tonnato: veal in tuna sauce
Bollito misto

Puglia
Sardinia
Sicily
Trentino-Alto Adige

Tiella di Verdure: casserole of baked vegetable topped with mozzarella cheese and fresh basil
Purea di Fave: broad bean puree
Zuppa di Cozze alla Tarantina: mussels steamed with peperoncino, garlic, tomatoes, white wine and garlic
Ostriche Arrosto: oysters broiled with parsley, garlic, oregano, breadcrumbs, olive oil and lemon juice
Pane di Altamura: sourdough duram wheat bread
Pane Casereccio: made from duram wheat, yeast, flour, salt and water, this loaf is a tradition of the region
Puccia di Pane: small, soft, round loaf made of white flour to remind the people of the Virgin Mary
Puddica: bread dough mixed with mashed potato and rolled into flat cakes, covered with halved tomatoes and seasoned with salt and pepper
Focaccia Ripiena: bread dough filled with mozzarella, tomatoes, ham, onion or leek and served in slices
Taralli: wheat flour, lard, olive oil, brewer's yeast, fennel seeds, red pepper and salt, baked into rings
Friselle: made from barley flour, duram wheat flour and go through a dual baking process, first in a hot oven and finished in a moderate oven

Procceddu: Small pig cooked with myrtle
Malloreddus: semolina gnocchi with saffron
Sa fregula: couscous

Tonno alla palermitana: tuna Palermo-style; tuna marinated in white wine, lemon, garlic, rosemary and broiled, then served with pan-seared sardines
Il timballo del gattopardo: Sicilian pie; pastry dough baked with a filling of penne rigata, Parmesan, and bound a sauce of ham, chicken, liver, onion, carrot, truffles, diced hard-boiled egg and seasoned with clove, cinnamon, salt and pepper.
Caponata: eggplants with tomatoes and olives
Maccu di San Giuseppe: bean paste with fennel

Gnocchi con la ricotta: Potato dumplings with ricotta
Pollo ripieno alla trentina: Stuffed chicken in the style of Trento
Canederli]] or [[Knödel: dumplings made with leftover bread
Crauti: Sauerkraut

Tuscany
Umbria
Valle D' Aosta
Veneto

Pinzimonio: fresh seasonal raw or slightly blanched vegetables served with seasoned olive oil for dipping
Ribollita: reheated vegetable soup
Ossibuchi alla toscana: osso buco, sliced braised veal shank, "Tuscan-style"
Bistecca alla fiorentina: grilled Florentine T-bone steak. In past it was also called bistecca alla florentina
Crema paradiso: Tuscan creamed bacon
Fegatelli di maialepig's liver forcemeat stuffed into pig's stomach and baked in a slow oven with stock and red wine
Carsenta lunigianese: baked on a bed of chestnut leaves and served on Good Friday
Ciaccia: from the Maremma made from maize
Donzelle: round loaf fried in olive oil
Fiandolone: made with sweet chestnut flour and strewn with rosemary leaves
Pan maoko: equal parts wheat and maize flour, with pine nuts and raisins added
Panigaccio: Lunigiana specialty made with flour, water and salt baked over red-hot coals and served with cheese and olive oil
Panina gialla aretina: an Easter bread with a high fat content, containing raisins, saffron, and spices. It is consecrated in a church before being served with eggs
Panini di San Antonio: sweet rolls eaten on the feast day of St. Anthony
Schiacciata: dough rolled out onto baking sheet and can have pork cracklings, herbs, potatoes and/or tomatoes added to the top along with a salt and olive oil
Pan di granturco: made from maize flour
Pane classico integrale: unsalted bread made with semolina with a crisp crust
Schiacciatina: made with a fine flour, salt dough with yeast and olive oil
Filone: classic Tuscan unsalted bread
Pan di ramerino: a rosemary bread seasoned with sugar and salt. The bread was originally served during Holy Week decorated with a cross on top and sold at the Church by semellai; it is, however, offered year round now.
Pane con i grassetti: a bread from the Garfagnana area, with pork cracklings mixed in
Pane con l'uva: in other areas this bread often takes the form of small loaves or rolls, but in Tuscany it is a rolled-out dough with red grapes incorporated into it and sprinkled with sugar. It is bread served often in the autumn in place of dessert and often served with figs

Lenticchie di Castelluccio con salsicce: lentil stew with sausages
Minestra di farro: spelt soup
Regina in porchetta: carp in fennel sauce
Piccioni all spiedo: spit-roasted pigeon
Barbozzo: cured, matured pig's cheek
Mazzafegati: sweet or hot pig's liver sausage, the sweet version containing raisins, orange peel and sugar
Budellacci: smoked, spiced pig intestines eaten raw, spit-roasted, or broiled
Capocollo: Sausage highly seasoned with garlic and pepper
Coppa: sausage made from the pig's head
Prosciutto di Norcia: a pressed, cured ham made from the legs of pigs fed on a strict diet of acorns[2]

Zuppa di Valpelline: savoy cabbage stew thickened with stale bread
Tortino de riso alla valdostana: rice cake with ox tongue
Lepre in Civet: jugged hare
Pere San Martin al vino rosso: winter pears in red wine
Panna cotta: sweetened cream set with gelatin

Pasta e fasioi: a dish of pasta and beans
Polenta con gli osei: Polenta cooked with wild birds
Risi e bisi: rice with young peas
Sarde in Saor: marinated sardines
Italian Food Glossary
Edit
Finding the ingredients for an Italian Recipe is not so easy when you do not know the names of the ingredients. Take time to make a list of ingredients and the name they may be found under at the Local Markets.
Preparation Methods for Italian Cooking
Edit
Italian recipes generally call for no special cooking methods. What is more notable is the absence of oven roasting as a cooking method: reliable ovens were relatively uncommon in Italian households until long after World War II, so nearly all home cooking took place on top of the stove. Instead of being oven roasted, poultry and small game are frequently pan-roasted: actually a form of braising. Dishes which do require baking in an oven were traditionally prepared at home, taken to the local bakery for cooking, then brought back home; this explains why pizza and lasagna are rarely meant to be served at oven temperature. In addition to pan roasting, the most common cooking methods in Italian cooking are grilling, sauteeing, boiling, and poaching.
Special Equipment for Italian Cooking
Edit
When you plan on cooking in an Italian manner, you will be in need of a lot of pots and serving spoons, spatulas, forks, turners, scrapers and tongs. Big pots that can be placed over open fires are specific to this cuisine. Also, baking pots and dishes are very popular in the Italian cuisine, since a lot of meals are prepared in the oven rather than on an electric fire. The famous pizza specialties are only baked in ceramic or clay ovens to give the crispy taste to the dough. Wooden spatulas are frequently used in the cooking process, not only for stirring, but for pizza-grabbing and handling. Food processors, mixers, grinders and splatters are of great utility in this cuisine, especially in the Sausage making process, and for grating hard condiments like black pepper or cinnamon. Deep serving dishes are required for the traditional Italian pasta, for soups and for stews. You need to consider cover lids and insulated food carriers to keep the temperature of the food constant, if you plan on serving the dishes at their optimized temperature.
Italian Food Traditions and Festivals
Edit
Italians are a nation known for their Latin blood that makes them full of life and celebration spirit. All year round there are lots of food-related festivals and traditions kept very well. In January, in the Piedmont region, there is a luganiga festival, a celebration of a type of Sausage, celebrated with boiled sausages, potatoes and sauerkraut. Early April has a feast of the cherry trees, and the Sagra dei Garagoi, a celebration dedicated to the garagoi, or sea snails, a time when they are cooked in tomato sauce with lots of pepper. There are festas dedicated to fried flatbread, festa of the Duck, and a festa del Lambrusco when red wine is sampled with gnocco fritto, or fried puffs of pasta dough, accompanied by prosciutto and salame. All festivals usually contain a lot of music and dances, Italians being party people by nature, having dance spirit in their blood.
People in Italian Food
Edit
Italians are gourmands by their nature, and many of them love to cook and put their personal mark on the food they prepare. Chefs have a great sense of flavor, and they know the secrets to a delicious pizza, risotto or pasta recipe. The many recipes and even more methods of preparing special traditional Italian meals are basically due to the feeling that a chef adds to the cooking process. There are over a six hundred types of pizza and pasta-dishes in Italy and most of them are made by chefs that add ingredients according to their personal taste. Combining available ingredients depends on the chef's personal method, and can result in Italian dishes that will become even more original and delicious than the already spectacular ones. The cooking process doesn't stop with food, but goes on to the coffee making one, Italians enjoying every diversification of a cappuccino, macchiato or latte coffee.
Are you into Italian Cooking and would like to be interviewed?
Italian Recipes
Edit
References and External Links
Edit
↑ Del Conte, Anna. The Concise Gastronomy of Italy. Barnes and Nobles Books, 2004.
↑ Piras, Claudia; Medagliani, Eugenio. Culinaria Italy. Cologne: Könemann Verlagsgesellschaft mbh, 2000.
Community content is available under
CC-BY-SA
unless otherwise noted.