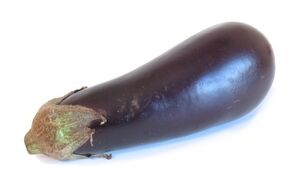 Name Variations
Edit
About Italian eggplant
Edit
The scientific name of the eggplant is solanum melogena esculenta and it represents a plant that has purple-skinned edible fruits. Although the edible part is actually an over-sized berry, the eggplant is considered to be a vegetable, due to its mild and creamy taste. Due to its wide range of forms, sizes and varieties, the eggplants can grow in many climates and there are many varieties found on the European lands. The Italian eggplant is available all year long, mostly from August through September. The content of the Italian eggplant is moist and the excess of liquid is exploited in the traditional recipes that include this specie of eggplant.
The Italian recipes that are featuring the Italian eggplant are best represented by the eggplant lasagna, the baked eggplant with cheese Italian style, the Italian eggplant casserole, the Italian eggplant burger and the roasted eggplant with herbs and spices. The Italian eggplant casserole contains thin sliced eggplants, tomatoes, onions, bell peppers, grated Italian cheese, oregano, Italian seasoning, sugar, garlic cloves, sweet basil, olive oil and parsley.
Community content is available under
CC-BY-SA
unless otherwise noted.