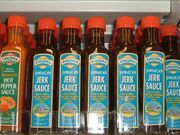 Description
[
]
This red-hot, bold Jamaican barbecue sauce is made, mixed, and packed with authentic herbs, spices, sugar, and scallions, and soy sauce, and is simply great for meat and seafood. Hot sauce and onion powder occasionally work for this, too, as it delivers a great, flaming-hot flavor.
Ingredients
[
]
Directions
[
]
Put everything especially including hot sauce in a food processor and blend until smooth.
Pour or spoon contents from the spice-based marinade into the fresh container but reserve this in the refrigerator. Use on meat or seafood and for grilling and/or basting.
Nutritional Information
[
]
Servings: 3 tablespoons