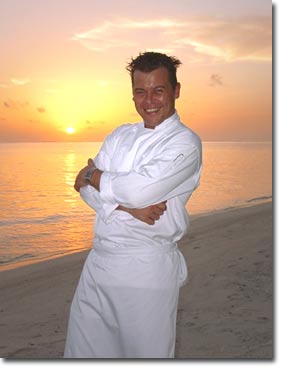 Half Irish, half Spanish and Australian to boot. That's Justin Dingle, the fiery new Executive Chef / F&B Director of the Taj Hotel Maldives which is to be opened later this year. The Hotel is expected to be among the best in the area with the charisma and style of the well known international hotel chain.
Previously the Executive Chef & Islander in charge of Cuisine at the Maldives Hilton, the dream holiday resort located on lushly tropical Rangali & Rangalifinolhu islands forming part of the Maldives archipelago.
Justin is no stranger to resort life, and comes to Maldives from the Grand Mirage Resort in Bali, Indonesia where he worked as Executive Chef. Beginning in his native Australia, Justin has worked across Europe and Asia Pacific for famed establishments such as The Iguana Australia, The American Clubs in Hong Kong, Le Manoir Aux Quatres Saisons UK, Park 97 Shanghai, The Chedi Ubud and The Grand Mirage in Bali Indonesia, gaining himself vast experience and knowledge in culinary arts. Justin is highly skilled in concepts and presentations of Asian, Continental, modern French, Italian and New World cuisine.
Justin says his success lies in the loyalty and enthusiasm he inspires in his team. Says he, "I am a hands on Executive Chef. I believe in getting down to it and doing the job with the team rather than ruling with tyranny". He uses his natural ability and charm to inspire others to achieve the high standards he sets.
Justin has great respect for traditional recipes. "If it works don't fix it", is his motto, but he complements this with a bold and innovative streak, to create new and exciting flavours. He has great skill in achieving exquisite tastes from combinations that may look utterly bizarre on paper; like tomato and basil, orange and cardamom or carrot and ginger.
Previously 'Executive Chef' & Islander in charge of Cuisine, Justin's duties include the smooth running of the resort's 4 restaurant outlets, the special barbecues and picnics as well as numerous guest requests. On a tropical island paradise the logistics of meeting these demands are not always easy. It involves quite a bit of pre planning as well as excellent PR.
---
Resources
Edit
Community content is available under
CC-BY-SA
unless otherwise noted.