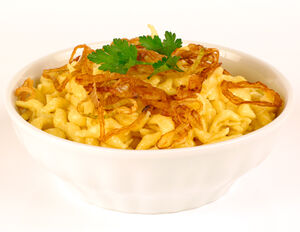 Prep Time: 20 minutes
Cook time: 15 minutes
Serves: 4-6 people
Description
Edit
Käs Spätzle is a German/Bavarian dish my Oma always makes. This is her recipe!
Ingredients
Edit
Directions
Edit
Mix one pound flour, 6 – 8 eggs, and 1 teaspoon salt together in a large bowl. Really whip and stir until paste forms bubbles. This may take some time, a wooden spoon works best.
Depending on the size of the eggs you may have to add some water until the paste is semi-pasty.
Boil a large pot of water and add in a teaspoon of salt and touch of oil.
To make the noodles a spätzle hobel works best but a large holed colander will also do.
Pour dough into the hobel and move back and forth so noodles drop into the boiling water.
When all dough is turned into noodles, stir boiling water for 1-2 minutes.
As the spätzle noodles rise to the top use a skimmer or holed spoon to take them out and place in large bowl.
Do not rinse the spätzle.
As you place the spätzle in bowl make a layer of spätzle then put a layer of swiss cheese, repeat until all cheese and noodles are in bowl.
Take a large spoon and stir cheese and spätzle together.
Cover with lid.
To add onions: chop up a medium onion.
Heat 3 tablespoons of butter and cook onions until brown.
Pour onions over the käs spätzle and cover with lid.
The dish is ready to serve.
To warm: put in oven on 320 °F for 15 minutes.
Community content is available under
CC-BY-SA
unless otherwise noted.