Description
[
]
This delicious recipe captures the great flavor of oven-roasted Lamb with Kashar Cheese in waxed paper. waxed paper keeps the moisture in, while allowing the meat and vegetables to further cook, while Kashar Cheese provides a smoked- meat like taste. If alcohol is appropriate, we recommend that you serve it with red wine or raki!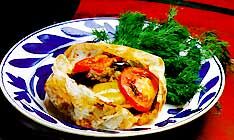 Ingredients
[
]
Directions
[
]
Add onion, carrots, dill, salt (use very little salt because kashar cheese has it plenty!) and pepper. Continue to sauté 10 minutes stirring occasionally.
In a separate saucepan sauté garlic in 1tbs butter and add tomatoes and wine, continue stirring 5 more minutes.
Add 1 cup of hot water to all of the above. Cook it over medium heat until meat is tender.
Remove meat and carrots, leaving the juice in saucepan.
In a separate saucepan, melt the margarine and sauté sliced potatoes and sweet green peppers.
ix thyme, meat and carrots, potatoes and sweet green peppers.
Divide the meat and vegetables into 4 portions. Grate kashar cheese over each portion. Cut double-folded wax paper into 4 pieces of 14 inch squares. Put each portion in the middle of the paper, making sure each gets the remaining juice equally. Wrap-up each portion by going over the top once and secure the two edges by folding in twice. You should have 4 square packages.
Wet the bottom of a baking pan large enough to fit the packages, with a couple of spoons of water.
Place packages in pan, loose ends securely tucked under. Wet package tops with a little water.
Bake packages for 20 minutes. Remove packages right before serving.