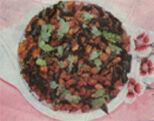 Ingredients
[
]
Directions
[
]
Peel the kanda and cut them into small pieces.
Boil them in water for 10 minutes.
When the pieces turn their color, remove from water and keep aside.
Heat oil and fry the pieces until golden brown.
Remove the pieces and keep aside.
In the remaining oil, fry mustard and cumin seeds, black gram and peanuts.
When they turn brown color, add green chilies, coriander powder, chili powder, cilantro, curry leaves, salt and the fried pieces.
Fry for another 5 minutes and remove from heat.
Serve as a side dish with rice.