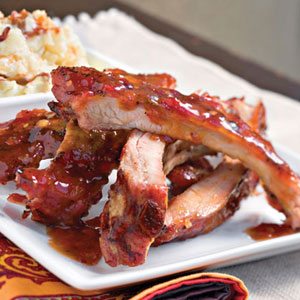 Prep Time: 15 Min
Cook time: 3 Hours
Serves: 6
Description
Edit
Mouth-watering and tender Kansas City Style Beef Back Ribs Recipe that made Kansas City famous for barbecue.
Ingredients
Edit
4 to 5 pounds beef back ribs
1 tablespoon brown sugar
1 tablespoon paprika
1 teaspoon garlic powder
1 teaspoon celery salt
1/2 teaspoon dry mustard
1/2 teaspoon ground black pepper
1/4 teaspoon cayenne pepper
2 cups hickory chips
1 medium onion, finely chopped
2 cloves garlic, minced
1 tablespoon butter
1 cup ketchup
1/4 cup molasses
1/4 cup cider vinegar
1/4 cup water
2 tablespoons brown sugar
1 tablespoon chili powder
1 tablespoon yellow mustard
1 tablespoon Worcestershire sauce
1/2teaspoon salt
Directions
Edit
Trim fat from ribs. Place ribs in a shallow roasting pan. In a small bowl combine brown sugar, paprika, garlic powder, celery salt, dry mustard, black pepper, and cayenne pepper. Generously sprinkle rub mixture over both sides of ribs; rub in with your fingers. Cover pan with foil.
Bake ribs in a 350 digress F oven for 2 to 2 1/2 hours or until very tender. Drain off fat.
At least 1 hour before grilling, soak wood chips in enough water to cover. Drain wood chips.
For sauce, in a medium saucepan cook onion and garlic in hot butter over medium heat 5 minutes or until tender. Stir in ketchup, molasses, vinegar, water, brown sugar, chili powder, yellow mustard, Worcestershire sauce, and salt. Bring to boiling. Reduce heat and simmer 20 to 25 minutes or until desired consistency.
Sprinkle wood chips over medium coals in a charcoal grill. Place ribs on the grill rack directly over the coals. Grill, covered, for 10 minutes or until ribs are browned, turning once and brushing occasionally with sauce. (For a gas grill, preheat grill. Reduce heat to medium. Add wood chips, according to manufacturer directions. Place ribs on grill rack. Grill as directed above.) Serve ribs with remaining sauce.
Community content is available under
CC-BY-SA
unless otherwise noted.