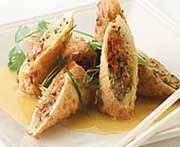 Ingredients
Edit
Tempering
Edit
Directions
Edit
Set aside.
Grate the coconut and finely chop the coriander leaves and set aside.
Mix together the buttermilk, gram flour and water.
Mix all the ingredients together, (except those for the tempering and garnishing) into a smooth solution.
Cook over a medium flame until all the water has been absorbed and a soft dough like consistency has been obtained.
It should be pliable enough to spread.
Grease the reverse side of 2-3 steel thalis with a little ghee and spread the mixture as thinly as possible over it.
The number of thalis you will require will depend upon the thickness of the dough you spread.
Spread the dough while it is still hot.
Once you have finished spreading all the dough, take a knife and placing each thali in front of you, cut 1 ?" to 2" wide strips.
Then roll them the way you would a Swiss roll.
Heat the oil in a pan.
Add the mustard seeds and once they start crackling, add the red chilies and asafoetida powder.
As the ingredients sizzle, pour the contents over the prepared khaandvi.
Garnish the khaandvi with the grated coconut and the chopped coriander leaves.
Serve hot or cold.
Community content is available under
CC-BY-SA
unless otherwise noted.