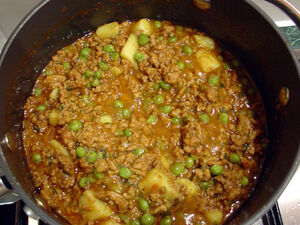 Description
Edit
Kheema is a minced Lamb curry which has potatoes and Peas in it. It's a Punjabi dish - and is extremely tasty when served with rice or roti - or pitta bread: you choose! Once again - it's really easy to make.
Ingredients
Edit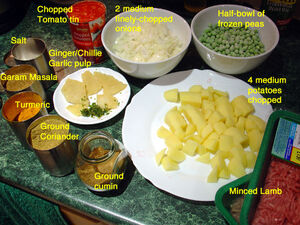 Just get the following stuf together:
2 (heaped) teaspoons ground coriander
2 teaspoons salt
3(heaped) teaspoons garam masala
1 and a half teaspoon of haldi (turmeric)
1 teaspoon of ground cumin
Directions
Edit
So: get a largish pot - and heat up a couple of tablespoons of your usual vegetable oil in it - we use cholesterol-free sunflower oil. Get the chopped Onion frying until they are golden brown. Then add the pulped garlic, ginger and chillie to the pot and continue frying on medium heat.
After a few minutes of frying - add the minced Lamb - and fry it until browned.
Then add all the dry spices - and stir-fry it all - until the browned meat is all coated well. Then add the tin of chopped tomatoes and stir it all about.
After a few mins - add the chopped potatoes - and also pour in a glass of water. Stir it all - and bring to a fierce boil so that the potatoes will cook. Reduce the heat and let it simmer for around half hour.
After about half hour of simmering - add the frozen Peas.
Recipe by Route 79
Edit
Community content is available under
CC-BY-SA
unless otherwise noted.