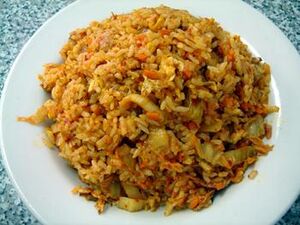 Ingredients
Edit
Kim chee
Edit
Avocado sauce
Edit
Directions
Edit
Kim chee
Edit
Add the won bok and soak for 2 hours.
Drain the mixture and add the remaining kim chee ingredients.
Let stand for 2 hours.
Chop 2 cups of [[.
Kim chee|kim chee]] into fine pieces and mix with ahi, onion, shoyu and sesame oil.
Make the 'taco' shells.
Pour 4 inches of oil into a deep skillet or pot and heat until bubbling.
Toss in a rice paper sheet.
Use a large metal whisk push the sheet down in the oil.
The rice paper will form itself into a taco shell around the whisk.
Fry 45 to 60 seconds — the rice paper should be translucent and bubbled.
Remove and drain.
Proceed with the rest of the rice paper.
Avocado sauce
Edit
Combine all the ingredients and whirl in a blender or processor until smooth (to keep the sauce from darkening, place a sheet of plastic wrap directly on the sauce until needed).
Community content is available under
CC-BY-SA
unless otherwise noted.