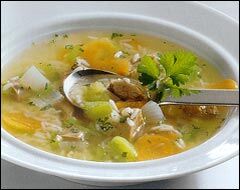 Description
[
]
This is an Icelandic soup (Kjötsúpa). Traditionally, fatty lamb meat is used but many now prefer to remove most of the fat. Other versions of the soup may add or substitute other vegetables, like cabbage, kale or turnips, and a fistful of oats or oatmeal was sometimes added to thicken it somewhat, but this is the version I like best; simple, clear and thin, albeit tasty! I also like the pure version, but tried the one with oatmeal too. It's excellent - very "stick to your ribs". It's also good the next day - and easy to pick the solid fat off after refrigeration. Serve hot to 6 to 8 people as a substantial meal.
Ingredients
[
]
Directions
[
]
Heat to boiling point, let boil rapidly for a few minutes, then skim.
Add rutabagas, potatoes and carrots and simmer for 20 to 25 minutes more, or until all the vegetables are tender.
Season to taste.
The meat is either served in the soup or removed and served on a separate plate, but it is always eaten with the soup. Some cut it up small, then add it back to the soup, others would eat it from a separate plate.