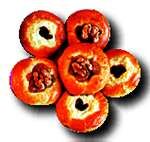 Ingredients
[
]
Cookies
[
]
Filling
[
]
Directions
[
]
Mix all ingredients and refrigerate overnight.
Keep cold through whole preparation.
Roll out dough on a surface coated with confectioners' sugar.
Cut squares from dough approximately 1½ inches.
Beat egg white until frothy, add the rest of the ingredients.
Use ½ teaspoon of filling to each square.
Roll filled cookie starting at one corner to the next.
Roll filled cookies in confectioners' sugar before baking.
Place on cookie sheet seam side down.
Bake at 350°F for 10 minutes.
Roll baked cookies again in confectioners' sugar.