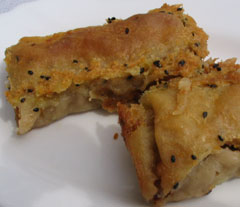 Description
Edit
Sweet red pumpkin pie. You should try this.
5-6 servings
Source: Tastes of Aegean by Mrs Dora Parisi from Molivos - Lesvos
Ingredients
Edit
Directions
Edit
Grate the pumpkin and place it in a bowl.
Open a small hole in the middle and place the rice. Let the mixture for hours or even for the night.
Then, drain the mixture by squeezing the pumpkin with your hands, and preserve the juice in a bowl.
Mix sugar, salt, cinnamon, 1 cup olive oil and the grated cheese with the pumpkin and the rice mixture. Work the mixture with your hands well.
Roll out the dough and make four sheets of filo.
Oil a baking pan and place the first filo sheet. The sheet should come up above the top of the pan. Oil it and then place the second filo above the first one. It should also come up above the top of the pan.
Place the third sheet on top of the mixture and oil it. Cover it with the fourth sheet. Oil it and slice off any parts of the sheets that have remained.
Score the top sheet with a knife into squares.
Beat the remaining olive oil with some sugar and 2 cups of the pumpkin juice that you have preserved and pour it over the pie.
Spread it well over the surface of the pie.
Bake in 200 °C until the pie takes a rose colour.
Community content is available under
CC-BY-SA
unless otherwise noted.