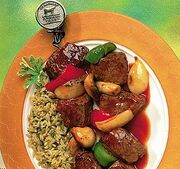 Description
Edit
Using a good cut of meat is key, so it will be very tender. Use beef tenderloin or sirloin (choice at the minimum). The longer you marinate the beef, the better the flavor (over night at a minimum). Cooking time does not include time to marinate.
Ingredients
Edit
2 lbs. beef chunks, any kind, cut 2-inch thick)
1 ¼ cup soy sauce, dark only
¼ cup sesame oil
¼ cup cooking sherry
¼ cup sugar, brown or white only
1 bunch green onions
2 garlic cloves
2 ¾ cups vegetables (red, white, or yellow onions, bell peppers, or mushrooms)
Directions
Edit
Cut tenderloin or sirloin beef up into big chunks (2" x 2" cubes). Score ¼-inch deep on all sides with a sharp knife (several slices per side). Using a two-prong fork, pierce the meat repeatedly on all sides (3 or 4 times per side). This will allow the juices to work their way deep into the meat.
Chop the scallions (just the white part) and mince the garlic. Add all the ingredients together and pour over the meat in a non-reactive, clear container. Have a large zip-lock bag ready.
Marinate the meat for at least 12 hours.
Place the meat on skewers with your choice of vegetables in between. Have onions, bell peppers, or mushrooms ready and cooking.
Grill over hot coals turning occasionally and brushing often with remaining marinade. Cook to desired doneness, then serve hot and plain over rice after taking the skewers out of the grill.
Community content is available under
CC-BY-SA
unless otherwise noted.