Description
Edit
A beefy version of the Kung Pao - this red-hot Chinese recipe starts off with real beef, spices, and vegetables, and is rich with the bold aroma while cooked to perfection. Chili oil and unsalted peanuts often work for this, too.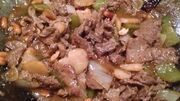 Ingredients
Edit
For the meat base
Edit
1 ½ lb. flank steaks, partially frozen
½ teaspoon salt, any kind
1 egg white, reserving 1 yolk
4 tablespoons peanut oil, divided
½ cup dry, roasted peanuts
10 whole, dried chili peppers
1 red bell pepper, cut into pieces
2 green onions, cut into ½-inch pieces
½ teaspoon grated ginger
½ cup water chestnut
steamed rice, brown or white only
For the sauce
Edit
1 teaspoon chili paste with garlic
2 tablespoons soy sauce
1 tablespoon rice wine or (1 tablespoon dry sherry)
1 teaspoon rice vinegar
1 teaspoon sugar, brown or white only
¼ cup chicken broth, warm only
1 teaspoon cornstarch
2 teaspoons dark sesame oil
Directions
Edit
Slice beef diagonally, across the grain, into thin slices. Combine beef, salt, egg white, and cornstarch.
Toss together until well mixed and set aside.
Stir together all ingredients for the sauce in a small bowl and set aside. Add two tablespoons oil to the wok and stir-fry beef until just browned.
Remove from the wok.
Add 2 more tablespoons oil, peanuts, and the hot peppers to the wok, and cook until the peppers turn dark.
Add more oil and bell peppers to the wok and cook for one minute, then reduce heat on the wok.
Add green onions, ginger and garlic to bell peppers and cook for a few moments only but do not let garlic burn.
Add beef and peanut/pepper mixture back into the wok and stir to blend.
Add chopped water chestnuts and sauce mixture and cook until heated through. Serve with steamed rice.
Nutritional Information
Edit
Servings: 2-3 spoons per plate
Community content is available under
CC-BY-SA
unless otherwise noted.