Lamb is one of the most popular meat varieties in Indian cuisine and prepared in a variety of methods, There is a number of curries, rice dishes and appetisers with lamb being the main ingredient. You can treat yourself to an assortment of Indian lamb dishes during your stay at hotels and resort properties the likes of Berjaya Times Square Hotel in Kuala Lumpur or many others around the globe. But if you are more of a home cook and wish to savour delicious food items from the comfort of your home, below is a recipe for a dish that you could prepare easily from home.
Ingredients
·         Minced Mutton                          500gm
·         Fresh Yogurt                          200gm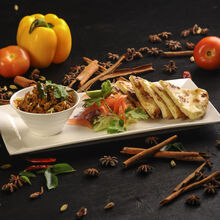 ·         Oil                                            70ml
·         Onion                                    200gm
·         Garlic                                    25gm
·         Red Chilli Powder                 20gm
·         Turmeric Powder                  10gm
·         Cumin Powder                      30gm
·         Black Pepper                        15gm
·         Garam Masala                          10gm
·         Roasted Chick peas              50gm
·         Poppy Seed                              30gm
·         Lemon Juice                          50ml
·         Green Chilli                               30gm
·         Fresh Mint                                20gm
·         Fresh Coriander                    30gm
·         Salt                                        30gm
·         Coal (for barbecued flavour)     1nos
Preparation
1.     Put all the ingredients inside a pan and mix well.
2.     Cook for a few minutes over high heat then turn the heat down to low.
3.     Cover the pan add the cook for another 15-20 minutes or until the mutton is cooked through.
4.     Take a small piece of coal and place it on a piece of foil at the middle of the dish containing the minced mutton.
5.     Add a drop of ghee or oil on the lit coal and cover the dish immediately so that the smoke gets trapped and the flavour gets infused with the meat giving it a smoky flavour.
6.     Next, uncover the pan, remove the foil and coal.
7.     Stir the minced mutton and add some chopped coriander and mint.
Community content is available under
CC-BY-SA
unless otherwise noted.