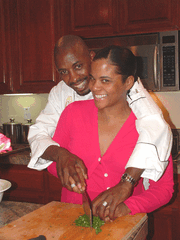 External Links www.chefqforhire.com
See Also
Chef Q. Bennett's Recipes Wiki Category
Chef Profile: Chef Q. Bennett
Ingredients
Duxelles - (Finely chopped mushroom and shallots slowly cooked in butter to form a dark paste)
Directions
Preheat oven 350°F.
Take cleaned rack of lamb and remove all but one bone, season with salt and pepper.
In a medium pan heat olive and sear lamb on both sides for approximately two minutes per side. Set aside to cool.
Add the mustard and rosemary together.
Spread the mustard mixture on all sides of the cooled lamb.
Now spread the Duxelle over the lamb set aside for later use. Use flour to roll out the puff pastry the length of the lamb.
Place the lamb on the puff pastry and seal. Ensure that all parts of lamb are covered and brush with melted butter.
Place on a baking tray and bake for approximately 10 to 15 minutes or until golden brown. Allow to sit, slice and enjoy!
Duxelles
Melt butter in a saucepan, add shallot and cook until tender.
Add minced mushrooms and season with salt and pepper.
Cook for approx. 5 to 7 minutes, until mixture becomes a paste like substance.
Remove from heat and set aside to cool.
Community content is available under
CC-BY-SA
unless otherwise noted.