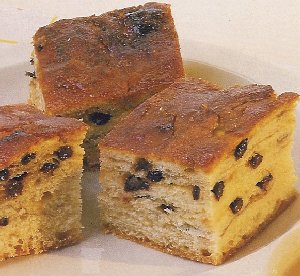 Prep Time:
Cook time:
Serves: 12 Slices
Description
Edit
Warm or cold, this recipe is sweet, filling and delicious. Lardy cake originates from Wiltshire, and in the West Country local bakers still make it to their own recipes, cramming in as much lard, sugar and fruit as they or their customers choose.
Ingredients
Edit
Directions
Edit
Grease a 20.5 x 25 cm (8 x 10 inch) roasting tin.
Blend the fresh yeast with 300 ml (½ pint) warm water.
If using dried yeast, sprinkle it into 300 ml (½ pint) warm water with the sugar and leave for 15 minutes, until frothy.
Put the flour and salt in a bowl and rub in 15 g (½ oz) of the lard.
Make a well in the centre and pour in the yeast liquid.
Beat together to make a dough that leaves the sides of the bowl clean, adding more water if necessary.
Turn on to a lightly floured surface and knead well for about 10 minutes, until smooth and elastic.
Place in a clean bowl.
Cover with a clean tea-towel and leave in a warm place for about 1 hour, until doubled in size.
Turn the dough on to a floured surface and roll out to a rectangle about 0.5 cm (¼ inch) thick.
Dot one-third of the remaining lard and the butter over the surface of the dough.
Sprinkle over one-third of the fruit, peel and sugar.
Fold the dough in three, folding the bottom third up and the top third down.
Give a quarter-turn, then repeat the process twice more.
Roll the dough out to fit the prepared tin.
Put in the tin, cover and leave in a warm place for 30 minutes, until puffy.
Score the top in a criss-cross pattern with a knife, then bake at 220°C (425°F) mark 7 for about 30 minutes, until well risen and golden brown.
Turn out and serve immediately or leave to cool on a wire rack.
Serve plain or with butter.
Community content is available under
CC-BY-SA
unless otherwise noted.