Description
Edit
Got a hot frying pan for cooking? This classic, crispy pork dish is made and infused with real herbs, salt, and peppercorns from the boiling water and cooked to divine, golden-brown perfection and keeps a steamy, robust aroma with the meat then including the fat. With crunchy skin and super-moist meat, every morsel is pork heaven!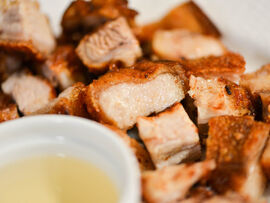 Ingredients
Edit
4 - 5 pounds whole pork belly
1 head garlic, pounded
2 tablespoons salt
1 tablespoon peppercorns
2 bay leaves
3 cups water, cold or lukewarm only
cooking oil
Directions
Edit
In a pot over medium heat, combine pork belly, garlic, salt, peppercorns, bay leaves, and enough water to cover. Bring to a boil, skimming scum that floats on top.
Lower heat, cover, and continue to cook for about 1 to 1 ½ hour or until meat is just tender but not falling apart.
Drain pork from liquid, discarding liquid. Wipe the pork dry, quickly removing any stray aromatics.
Place on a rack and refrigerate overnight to completely cool and dry.
In a deep, heavy-bottomed pot, heat enough oil to completely cover meat to about 350° F to 375° F. Carefully place meat into oil and fry until meat is golden and skin is crisp and puffed.
While the meat is frying, regularly sprinkle about 1 tablespoon cold/lukewarm water onto the meat and hot oil every 5 minutes or so.
Remove meat from the pot and drain on a wire rack set over a baking sheet.
Let rest for about 5 minutes and then cut into serving pieces with the butcher knife or the cleaver. Serve hot and plain with lechon sauce or a dip of choice, or with other main dishes.
To use a conventional method of boiling pork before frying, add 3 cups of water and salt to a large cooking pot.
Community content is available under
CC-BY-SA
unless otherwise noted.