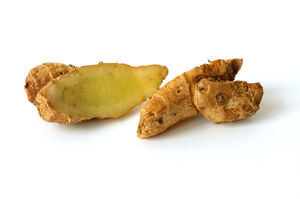 Name Variations
Edit
lesser galangale
kencur root
kentjur root
zedoary
About Lesser galangal
Edit
Lesser galangal is a plant also known as kencur. The ginger-like plant has Chinese origins, which is used as a spice in Malaysia and Indonesia. Lesser galangal has long and slender leaves and the whole plant resembles to an iris. The plant has small flowers, in white and red colors and the rhizomes are brown. The interior of the plant is fibrous and this is the reason why the plant is mostly available as powder. The taste is spicy and hot, with a high heat level.
Due to its resemblance to ginger, lesser galangal is used both as a natural medicine and as a spice. Most of the recipes that include the lesser galangal are based on fish and seafood and they are spiced with garlic, ginger, chili and lemon or tamarind. There is a wide variety of Asian soups, chicken dishes and sambals that include this exotic plant. Still, due to the fact that lesser galangal has an intense flavor, it is usually accompanied by coconut milk and lemon grass.
This ginger-like root has a unique, champor flavor and should be used sparingly. Wash it and scrape off the skin before using. Dried sliced kencur or kencur powder can be used as a substitute. Soak dried slices in boiling water for approximately 30 minutes; use ½ – 1 tsp of powder for 1-inch fresh root.
Community content is available under
CC-BY-SA
unless otherwise noted.