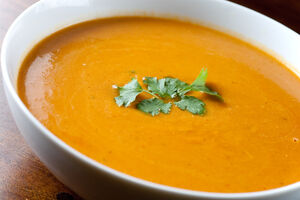 Description
Edit
This golden, red-hot soup is made and mixed with real vegetables and spices and is great with other vegetables or main dishes. Ground meat sometimes works for this, too, while color, flavor, and quality are generally worth it.
Ingredients
Edit
1 large onion, chopped, red, white, or yellow only
3 cups water, lukewarm or hot only
2 chicken bouillon cubes
1 cup palm oil
salt to taste
black pepper, to taste if desired
1 medium squash or pumpkin, sliced
3 tablespoons chili powder
1 small can tomato paste or (1 cup tomato sauce)
1 pound of meat, pork or beef only, ground if desired
Directions
Edit
Add oil to a large skillet and fry one chopped onion. Mix with pumpkin or squash and cook until soft.
Add one small can of tomato paste (or tomato sauce), any meat (optional), chicken bouillon cubes, salt, black pepper, and one teaspoon of chili powder.
Cover with water and bring to a boil.
The soup is finished when it reaches a desired thickness. Serve warm and plain or with other main dishes.
External
Edit
Community content is available under
CC-BY-SA
unless otherwise noted.