Description
Edit
This liver-based recipe is wrapped with the dough and used as an appetizer or side dish. Chili powder and scallions work for this recipe, too. With meaty aroma and bold taste, every piece of dumpling is red-hot, poultry fun!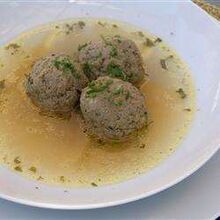 Ingredients
Edit
1 raw chicken liver, finely chopped
800 kg. ground chicken
4 sprigs of parsley greens, minced
1 small onion, minced, red or yellow only
4 whole eggs
2 ½ tbsp. salt, reserving 2 tablespoons for the chicken and liver mixture
½ tbsp. black pepper
2 ¾ cups of flour, reserving ¾ cups for dusting or (16 dumpling wrappers)
Directions
Edit
Mix all the ingredients together.
Wrap the chicken and liver mixture with the dough (or dumpling wrappers). Drop into the boiling water by the 5 ½ teaspoonfuls.
Cook about 15 minutes or until done. As the batter is too thick, you can add a little water.
Drain and serve hot and plain or with the soup.
Community content is available under
CC-BY-SA
unless otherwise noted.