About Lo mein noodles
Edit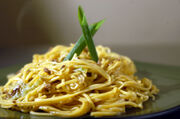 Wikipedia Article About Lo mein noodles on Wikipedia
Lo mein (Chinese: 撈麵/撈麪, Mandarin Pinyin: lāo miàn) is a Chinese dish based on stir-fried wheat noodles. It often contains vegetables and some type of meat or seafood, usually beef, chicken, pork, or shrimp.
Lo mein is very similar to the Japanese version of stir-fried noodles, yakisoba. Many instant noodles come in a yakisoba variety which resembles lo mein.
In American Chinese restaurants, lo mein is a popular take-out food. In this setting, Lo mein noodles are usually stirred with brown sauce (a sauce made from soy sauce, corn starch, sugar, and other seasoning), carrots, bok choy or cabbage, onions, and shrimp, roast pork, beef, or chicken. Lobster Lo mein, vegetable Lo mein, and "House" Lo mein (more than one meat) are often available. Lo mein and Fried rice are often the only dishes sold without white rice, and is normally more affordable than other dishes.
Community content is available under
CC-BY-SA
unless otherwise noted.