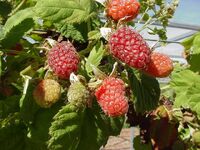 Name Variations
Edit
About Loganberry
Edit
The name of this plant comes from Rubus loganobaccus and it is considered to be the result of a cross between the Red Antwerp raspberry and the American blackberry Aughinburgh and it was accidentally created in Santa Cruz by an American lawyer and horticulturalist whose name was James Harvey Logan. This plant seems to be really productive and it can adapt well to local conditions. The leaves are of a deep green colour and they are very thick. As for the fruit, it is as large as the largest size blackberry, being of the same shape, similar globules and a dark bright red colour. A loganberry bush usually measures about 10 canes large and the fruits are generally harvested when they have a deep purple colour. Loganberries can be used in pies, jams, fruit syrups, wines, or crumbles, but they can be also eaten without any preparation. Loganberry is primarily harvested in the Western United States, while the Loganberry Drink became very popular in Southern Ontario and Western New York.
Community content is available under
CC-BY-SA
unless otherwise noted.