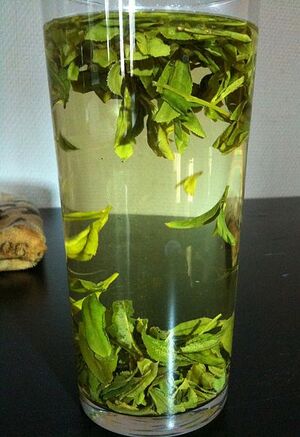 Longjing tea (simplified Chinese: 龙井茶; traditional Chinese: 龍井茶; pinyin: lóngjǐng chá) or Dragon Well is a famous variety of green tea from Hangzhou, Zhejiang Province, China where it is produced mostly by hand and has been renowned for its high quality, earning the China Famous Tea title.
Long Jing is often called the national drink of China and is frequently given to visiting heads of state. It is also a favorite tea of today's top leaders, with a portion of production reserved for government customers.
Like most other Chinese green tea, Longjing tea leaves are heated early in processing (after picking) to stop the natural "fermentation" process, which is a part of creating black and oolong teas. In the world of tea, the term "fermentation" refers to the actions of natural enzymes, present in the leaves, on the juices and tissues of the leaf; this is not "fermentation" in the true sense of the term (as, for example, the action of yeast in producing beer). The actions of these enzymes is stopped by 'firing' (heating in pans) or by steaming the leaves before they completely dry out. As is the case with other green teas (and 'white teas'), Longjing tea leaves are therefore "unfermented." When steeped, the tea produces a yellow-green color, a gentle, pure aroma, and a rich flavor. The tea contains Vitamin C, amino acids, and has one of the highest concentration of catechins among teas, second only to white teas.
Longjing, which literally translates as "dragon well", is named after a well that contains relatively dense water, and after rain the lighter rainwater floating on its surface sometimes exhibits a sinuous and twisting boundary with the well water, which is supposed to resemble the movement of a traditional Chinese dragon.
Tradition has it that to achieve the best taste from Longjing, water from the Dreaming of the Tiger Spring, a famous spring in Hangzhou, is to be used. Water is boiled, then cooled to 75-80 degrees Celsius before being used to brew the tea leaves. It is usual to use ceramic or glass to brew Longjing tea (minerals in porous earthenware such as Zisha may disrupt the taste of the tea).
Community content is available under
CC-BY-SA
unless otherwise noted.