Description
[
]
Similar to the red-hot Texas-style barbecue sauce, this countrified, homemade barbecue sauce is made and mixed with real ketchup, garlic, sugar, Dijon mustard, and Worcester sauce, and is great for marinating, grilling, and basting. Lemonade rarely works for this, too.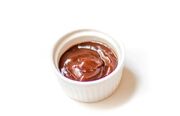 Ingredients
[
]
Directions
[
]
Place minced garlic in a large bowl.
Add remaining ingredients. Mix well. Heat the sauce in a frying pan until thick.
Spoon or pour contents from the homemade barbecue sauce in a glass bottle. Refrigerate the homemade barbecue sauce for later use.
Videos
[
]
Nutritional Information
[
]
Servings: 3 cups or 3 tablespoons