Description
Edit
A recipe all Filipinos are proud of! Lumpia (Shanghai type) is a type of egg roll, except it's mainly filled with meat. You could use pork or beef or both! It's a yummy recipe and great to serve as side dish or appetizer.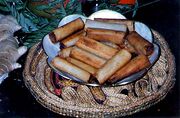 Ingredients
Edit
Directions
Edit
Make sure to completely mix everything
Get down and dirty and use your hands
Knead the meat in the bowl if you must
Gradually blend in the soy sauce , Tony's, garlic powder, and salt until all ingredients are evenly distributed
Lay out a few wrappers at a time on a flat surface, and place about 2 tablespoons of the filling in a line down the center of the wrapper
Make sure the filling is no thicker than your thumb, or the wrapper will cook faster than the meat
Take the bottom and top edges of the wrapper and fold them towards the center
Take the left and right sides, and fold them towards the center
Moisten the last edge of the wrapper to seal
Now repeat using the rest of the wrappers
Heat the oil in a deep-fryer or heavy skillet to 375 °F (190 °C)
Fry 3 or 4 lumpia at a time
Fry for about 3 or 4 minutes, turning once
Lumpia are cooked through when they float, and the wrapper is golden brown
Cut in half, or serve as is with dipping sauce of your choice
Community content is available under
CC-BY-SA
unless otherwise noted.