Description
[
]
An all-time cheesy favorite, this savory, rich appetizer is made with only real cheese and spring roll wrappers and cooked to red-hot perfection, as it simply keeps a crispy aroma with the cheese content. Italian seasoning rarely works for this, too.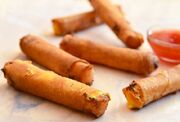 Ingredients
[
]
1 pound Velveeta or any cheese of choice
1 can of mushrooms, optional
6 chilis, cut into small pieces, optional
12 spring roll/lumpia wrappers
1 cup cooking oil
Instructions
[
]
Cut cheese into thin, long strips with the chef's knife or the cheese knife. Freeze for about 15 to 20 minutes, or overnight.
Separate wrappers into individual sheets. On a flat, working surface, lay a wrapper like a diamond. Place cheese on the middle of the wrapper.
Fold the bottom, pointed end of the wrapper over the filling. Fold side ends of the sheet inward and roll tightly into a log.
Wet the pointed edge of the wrapper with a dab of water to completely seal. Repeat with the remaining cheese and wrappers.
In a skillet over medium heat, heat about 1 inch deep of oil. Add spring rolls seam side down in batches, if necessary, and fry, turning once or twice, for about 1 to 2 minutes or until golden brown and crisp.
Remove from the skillet and drain on a wire rack set over a baking sheet. Serve hot and plain with the sweet and sour sauce, if desired, or with other side dishes.
Videos
[
]
Pictures
[
]