About malted milk
Edit
Malted milk is a powdered food product made from a mixture of malted barley, wheat flour, and whole milk, which is evaporated until it forms a powder.
Malt powder comes in two forms: diastatic and non-diastatic. Diastatic malt contains enzymes that break down starch into sugar; this is the form bakers add to bread dough to help the dough rise and create a good crust. Non-diastatic malt has no active enzymes and is used primarily for flavor, mostly in beverages. It sometimes contains sugar, coloring agents, and other additives.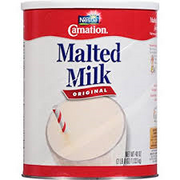 Community content is available under
CC-BY-SA
unless otherwise noted.