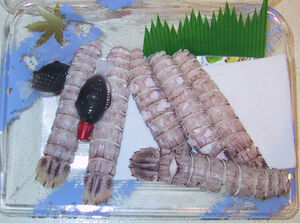 Mantis shrimp or stomatopods are marine crustaceans, the members of the order Stomatopoda. They are neither shrimp nor mantids, but receive their name purely from the physical resemblance to both the terrestrial praying mantis and the shrimp. They may reach 30 centimetres (12 in) in length, although exceptional cases of up to 38 cm (15 in) have been recorded. The carapace of mantis shrimp covers only the rear part of the head and the first four segments of the thorax. Mantis shrimp appear in a variety of colours, from shades of browns to bright neon colours. Although they are common animals and among the most important predators in many shallow, tropical and sub-tropical marine habitats they are poorly understood as many species spend most of their life tucked away in burrows and holes.
In Japanese cuisine, the mantis shrimp is eaten boiled as a sushi topping, and occasionally, raw as sashimi; and is called shako (蝦蛄).
In Cantonese cuisine, the mantis shrimp is a popular dish known as "pissing shrimp" (攋尿蝦, Mandarin pinyin: lài niào xiā, modern Cantonese: laaih niuh hā) because of their tendency to shoot a jet of water when picked up. After cooking, their flesh is closer to that of lobsters than that of shrimp, and like lobsters, their shells are quite hard and require some pressure to crack.
In the Mediterranean countries the mantis shrimp Squilla mantis is a common seafood, especially on the Adriatic coasts (canocchia) and the Gulf of Cádiz (galera).
In the Philippines, the mantis shrimp is known as tatampal, hipong-dapa or alupihang-dagat and is cooked and eaten like shrimp.
The usual concerns associated with consuming seafood are an issue with mantis shrimp, as they may dwell in contaminated waters. This is especially true in Hawaii, particularly the Grand Ala Wai Canal in Waikiki, where some have grown unnaturally large.
Community content is available under
CC-BY-SA
unless otherwise noted.