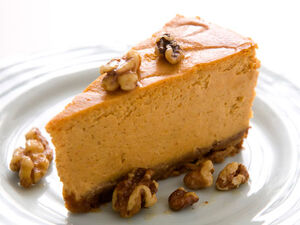 Description
Edit
This golden recipe starts with the pumpkin, cream cheese, maple syrup, authentic spices, and graham cracker crumbs, and condensed milk and keeps a cheesy taste with the sugar content and pecans.
Ingredients
Edit
Directions
Edit
For the maple-pumpkin base
Edit
Preheat oven to 325º. Combine graham cracker crumbs, sugar and butter; press firmly on bottom of a 9-inch spring-form pan. With the mixer, beat cream cheese until fluffy.
Bake 1 ½ hours or until the center appears nearly set when shaken. Cool 1 hour. Cover and chill at least 4 hours.
To serve, spoon some maple pecan sauce over the cheesecake. Garnish with whipped cream and pecans.
Pass the remaining sauce. Store leftovers covered in refrigerator.
Maple pecan glaze
Edit
In a medium-sized saucepan, combine 1 cup whipping cream and 3/4 cup pure maple syrup; bring to a boil.
Boil rapidly, 15 to 20 minutes, or until slightly thickened; stir occasionally. Stir in ½ cup chopped pecans.
Cover and chill until served. Stir before serving.
Community content is available under
CC-BY-SA
unless otherwise noted.